/ Strop·per /
noun : 1. one who sharpens straight razors
2. one who steals your lover; derivative of "jackstropper"
Who we are
Whether their performing in the mountains of Colorado or on the rooftop of a bar at SXSW, The Stroppers, of Kansas City, have gained the reputation of a must-see live act. The Stroppers have clearly done their homework when it comes to putting on a rock 'n' roll performance. At a Stroppers show, it's not unusual to watch frontman Joel Monroe play guitar with his left hand while simultaneously wailing rock melodies into a microphone held by his right. After Monroe plants the ever so welcomed earworm in your head, he proceeds to climb the kick drum and rip out a fuzzy guitar solo using his teeth in substitute of a pick. As you witness this unfold, you see that drummer Jazzy Bones has split a drum stick in the midst of laying down a brutally heavy and ferocious beat. You immediately notice that her main goal is to get your body moving, a job in which she easily succeeds. She reaches for another stick and continues to pound the drums, leaving a thumping decay in the center of your chest with every smack. Monroe wraps up his guitar solo (or should I say flossing session) and leaps from the kick drum back onto the stage, just in time to reach the microphone and deliver the last singalong chorus of the song. It is at that moment you realize you are experiencing a true rock 'n roll performance.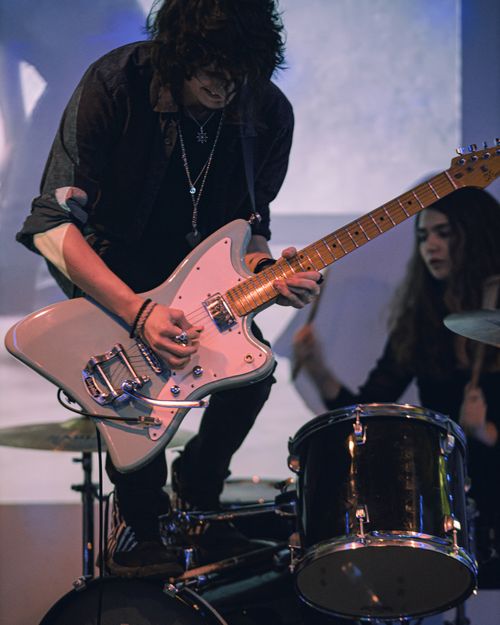 "At a Stroppers show, it's not unusual to see Monroe pulling some Jimi Hendrix-like moves, like playing his guitar over his head or behind his back, while Bonilla lays down a ferocious beat..."
- News-Press NOW
 
"I'm just gonna be frank with you all & tell ya exactly how I feel about this new live video from The Stroppers – I absolutely fuckin LOVE this."
- Sleeping Bag Studios
"As soon as I put it on and listened to it, the album completely blew my mind."  
- Metal Nexus  
   
"This song sounds like early Rolling Stones on Steroid, jamming in a basement and trying to outplay The Beatles' Helter Skelter!"  
- The Bandcamp Diaries